New for 2022, our medium backpacks have been redesigned to offer maximum storage and opening capacity. A new ergonomics for an optimal comfort. 
From the fifth grade on, your children often ask you to trade their schoolbag for a backpack. Because a schoolbag is for the little ones! Normal, they are older and want a big bag!
At Caramel & cie, we have designed a bag especially for children in the first grade of elementary school. A bag that combines the advantages of a school bag with those of a hiking bag.
Backpacks inspired by hiking bags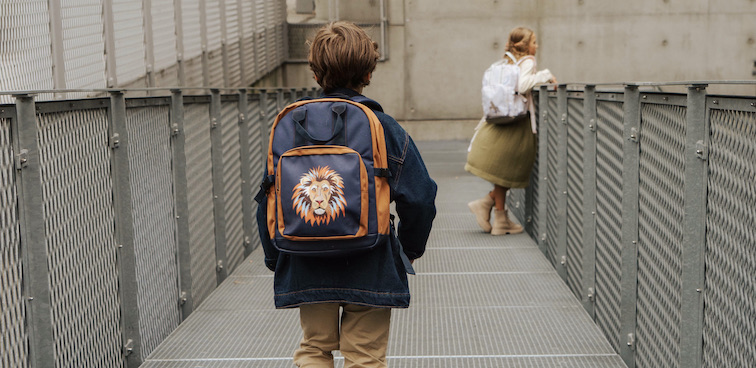 Books, notebooks, binders and pencil cases are a whole armada that our children have to carry to school every day! And when you consider that they wear it most of the day and 5 days a week, it is essential to have a bag that offers optimal comfort and reinforced back protection.
That's why Caramel & cie has rethought the ergonomics of the backpack. More technical, this new form of bags allows to ideally distribute the loads between the shoulders and the lower back.
The backpack is equipped with a super soft anatomical back panel and adjustable S-shaped straps inspired by hiking bags. This way, it rests on the child's lower back. And relieves his shoulders.
The padded shoulder straps are covered with a wide mesh anti-perspirant fabric to avoid friction. Their S shape and slope allow them to fit comfortably on the shoulders. Our children can run and play without being embarrassed.
A new ergonomics for sure advantages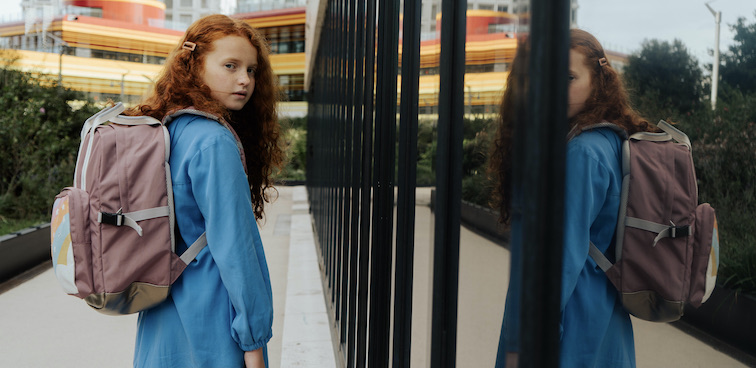 Designed like a school bag, they have the advantage of offering a larger storage space. The access to the contents is facilitated thanks to its wide opening. No more damaged notebooks and books!
When it is not on the shoulders of the child, it can be easily carried by hand thanks to its comfortable strap handles.
The side compression tabs help stabilize the contents and adjust the volume easily. Remember that heavy books should be stored as close to the back as possible to balance the weight of the schoolbag.
Safety has not been forgotten! The medium backpack is enriched with reflective strips on the straps. To be seen at nightfall, when leaving school.
Versatile and eco-friendly backpacks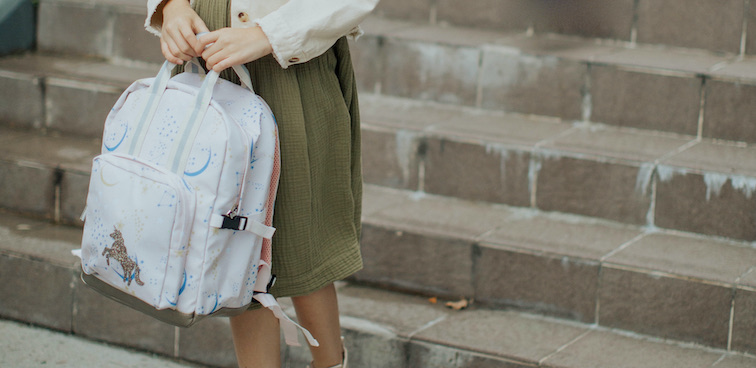 Originally designed as a school bag for elementary school, our backpacks can be used for a variety of purposes and can be used as a sports bag or travel bag.
The interior is spacious enough to hold several 24x32 cm notebooks, a binder, an agenda and a pencil case. Designed to be as light as possible, our bags are reinforced at all stress and wear points to last over time.
Lightweight and durable, they are also good for the planet because they are made with 80% recycled polyester.
On the practical side, our medium backpacks have a padded interior pocket. The school's tablet will be well protected!
A large front pocket offers additional storage space. It is equipped with a carabiner to hang your key ring. No more lost or misplaced keys!
Super stylish backpacks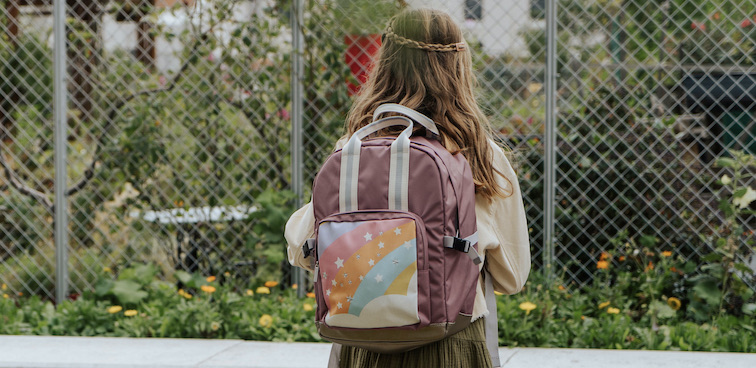 Beyond the technical know-how, our bags are beautiful! Their playful and colorful design stimulates children's creativity and imagination.
Imagine yourself as a unicorn to jump on the rainbow and join Simba the Magnificent in his jungle or become the king of paper toys... these are a thousand stories that your children will invent in their heads!