A Caramel & cie school bag is very technical
Beyond the aesthetic side, a Caramel & cie schoolbag is above all a technical product that requires a particular know-how.
All our bags and backpacks are designed to be durable and strong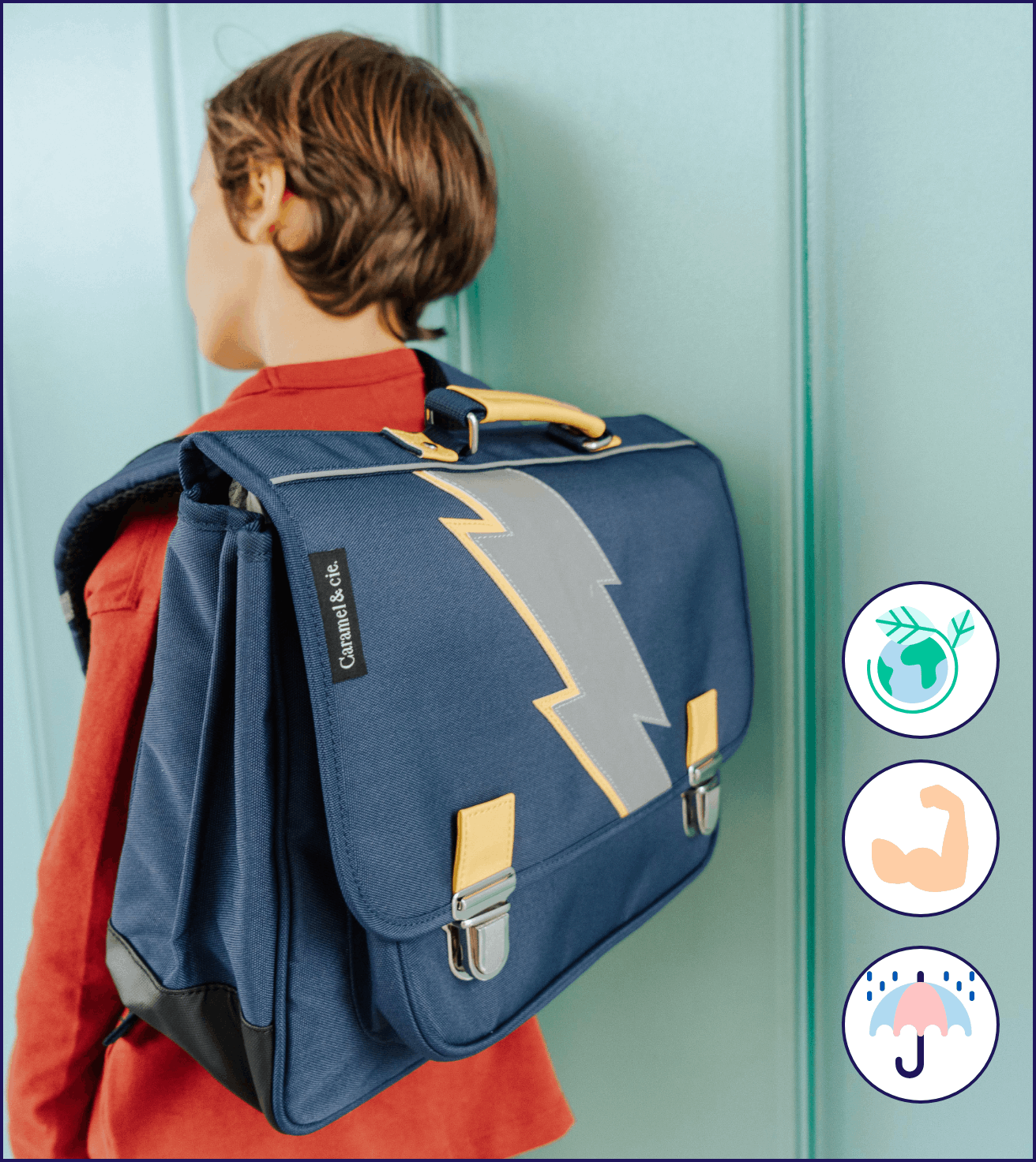 We use high quality 900D fabric (which corresponds to the weight in grams of fabric thread for a 9 meter length). This is an important indicator for choosing the right schoolbag for your child because the denier measures the thickness of the fabric and therefore its strength. The higher the denier, the more resistant the schoolbag will be to shocks and wear. It will have a better chance of lasting over time. For even more rigidity and to avoid snags, the bottom of the bag is lined in imitation leather.
The colors of all our fabrics are created exclusively for Caramel & cie, so you will not find a color in another manufacturer and all our prints have a specific coating to improve their resistance.
100% of the 2022 collection is made with 80% recycled polyester, the goal is to reach 100% in the near future.
Every year, we try to improve the durability of our binders. First, by using recycled raw materials that can be collected in the near future; this is our challenge for the years to come!
Then by extending their life span to generate less waste. We manufacture solid: the seams of Caramel & cie schoolbags are reinforced at the point of tension and the fabric is resistant to rubbing. Guaranteed for 2 years, our binders benefit from a free repair program.
A fastener that comes loose? A torn handle? A seam that's gone to waste? Caramel & cie will send you free of charge the straps, buckles and handles. And reimburse you for the shoemaker's repair upon presentation of the invoice. Follow our tutorials on instagram ou Facebook #carameletciecare.
Contact us at contact@carameletcie.fr. Since a picture sometimes speaks much better than words, don't forget to include photos and proof of purchase with your message. We will do our best to provide you with an answer to your problem as soon as possible.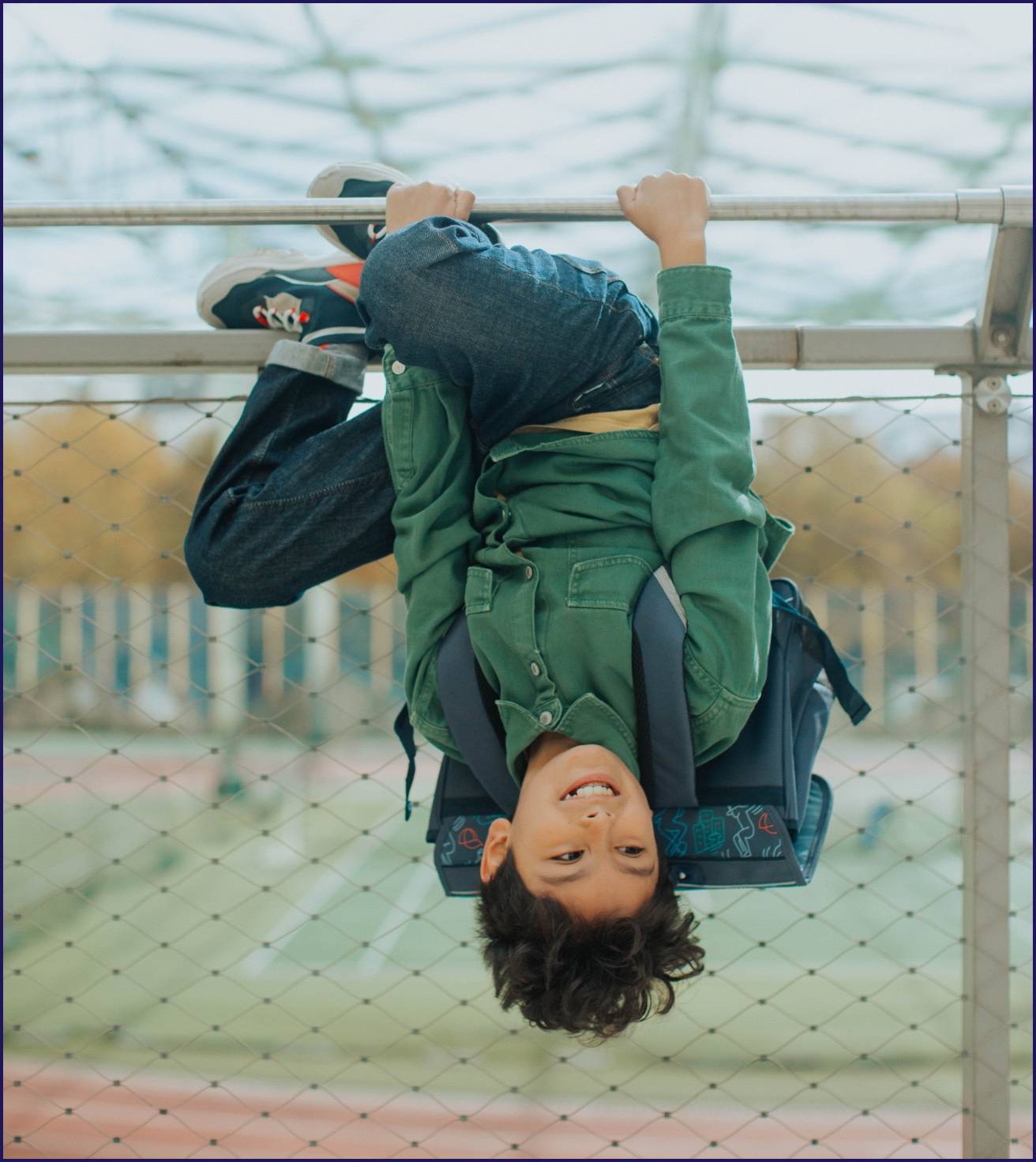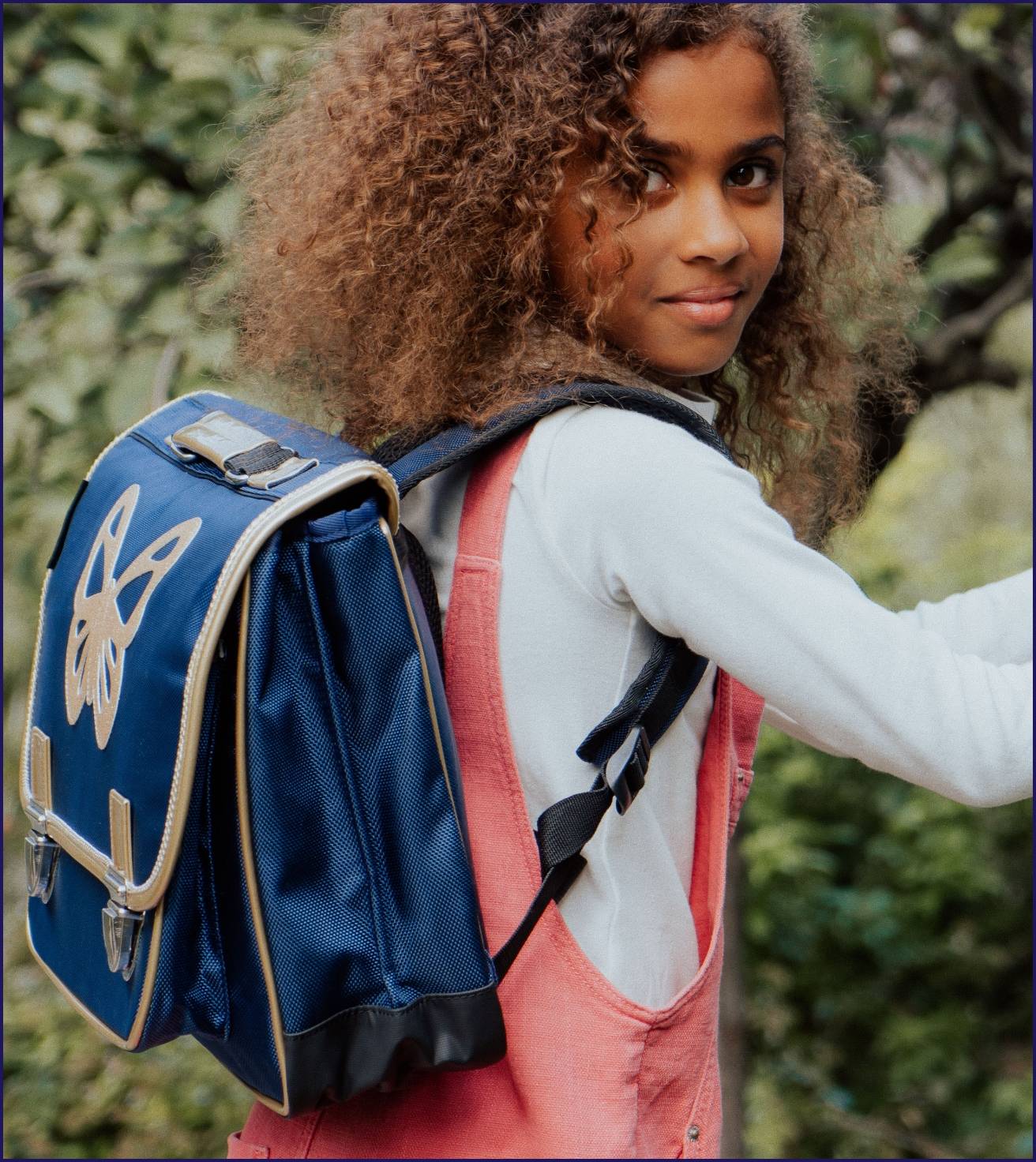 Our adjustable straps are also padded and covered with a wide mesh anti-perspirant fabric with a large return to avoid friction.
Their S-shape and slope allow them to fit comfortably on children's shoulders and to follow the shape of the body. They act as a suspension system which allows the bag to move better with the body's movements.
Durable and lightweight schoolbags.
In our quest for constant improvement, the shape of our schoolbags and backpacks is redesigned every year to make them lighter. At Caramel & cie, a kindergarten schoolbag weighs 450g with all its reinforcements, padding, rivets and other metal fasteners.
A primary school bag weighs between 800 and 950g, because of its size of course (school books and notebooks must all fit!) and especially because they are even more reinforced.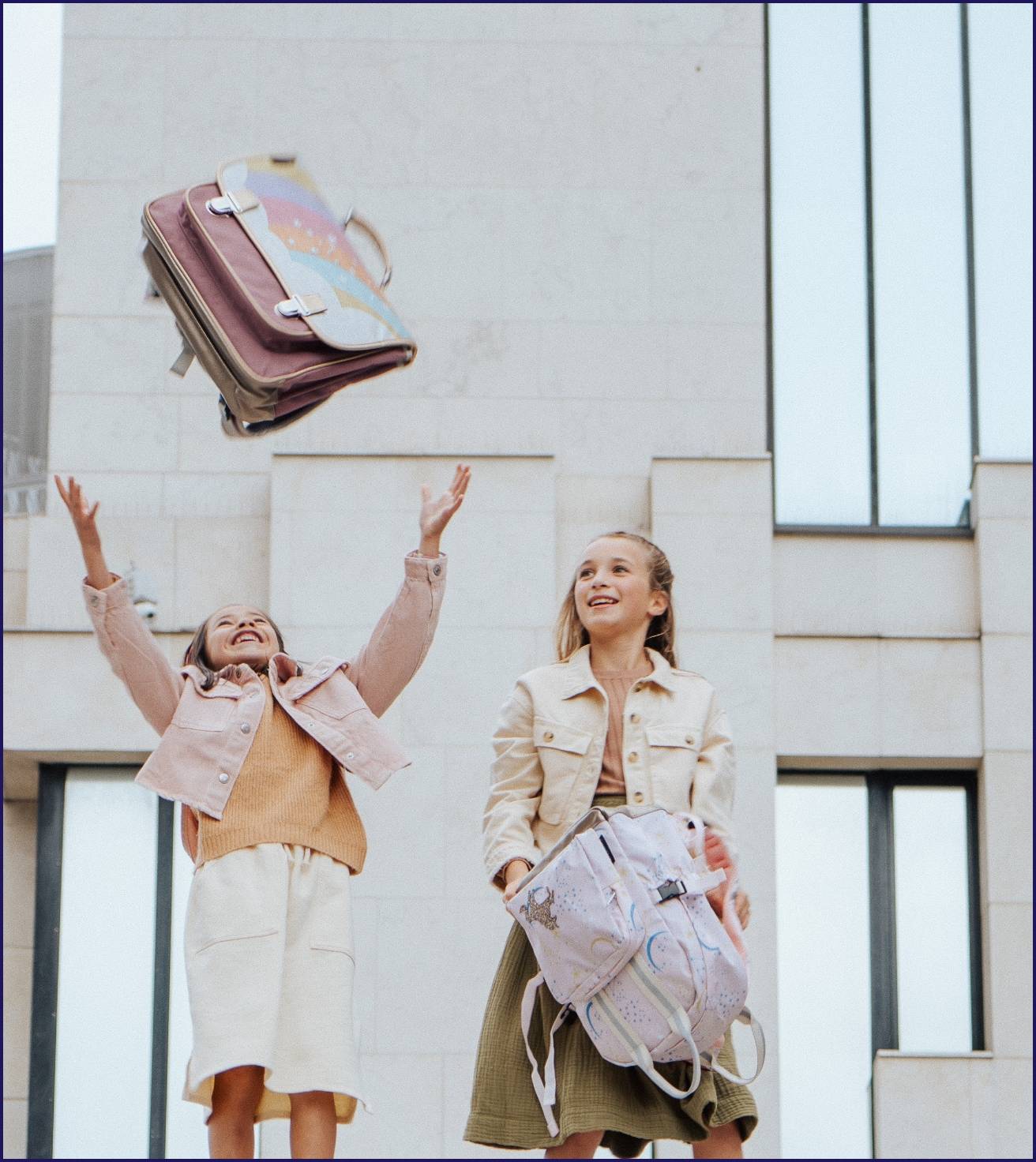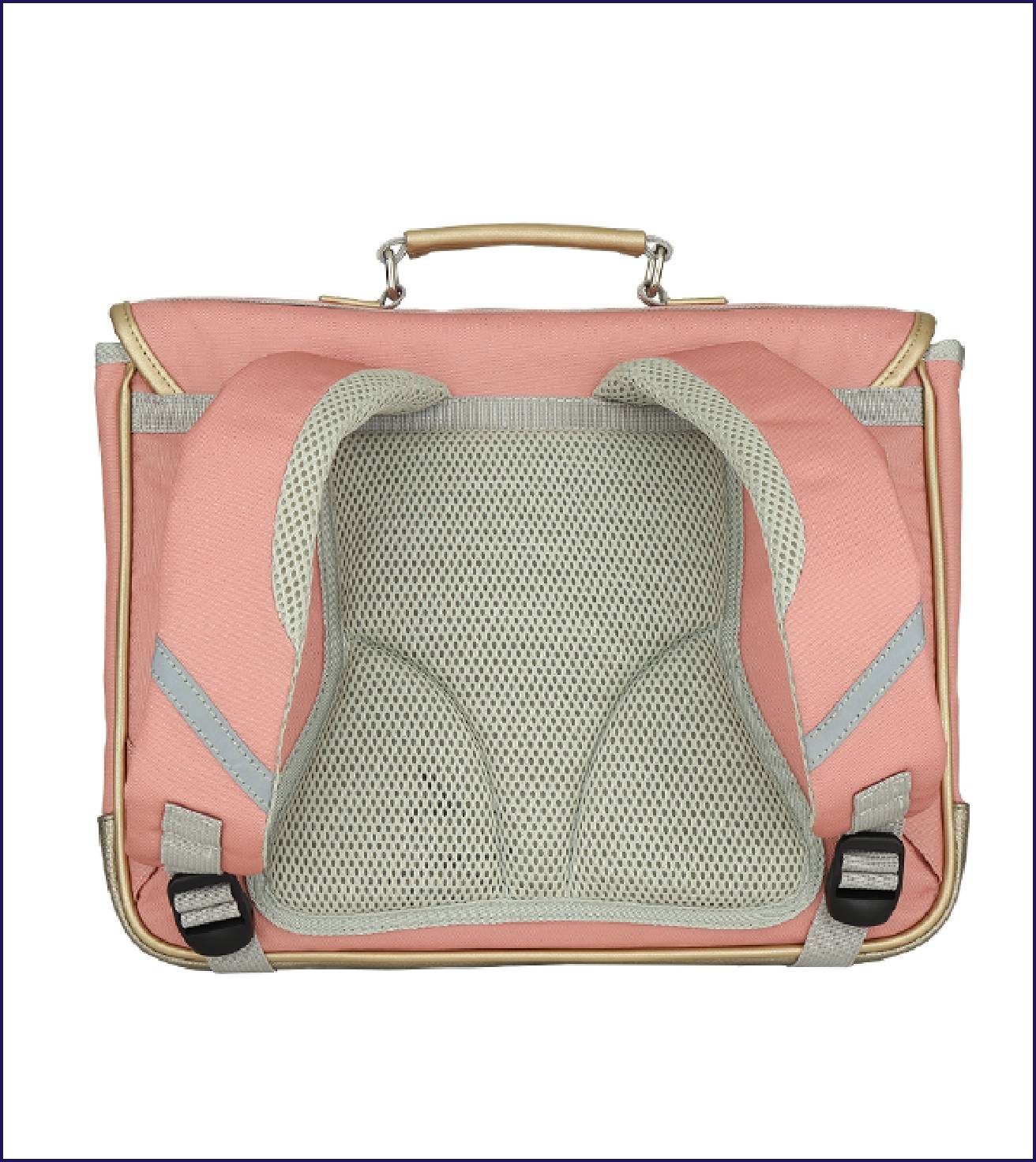 Protecting our children's backs
Padding is essential for the comfort of our children.
That's why the backs of our schoolbags and bags are padded with an anti-perspirant honeycomb material designed to rest on the child's lower back and relieve the shoulders.
The contact mesh is soft to the touch, comfortable and breathable for a pleasant feeling.
Padded and resistant handle
A plastic plate is located under the handle, and the riveted and stitched nylon rando straps ensure its resistance. The imitation leather provides support and its velvety side allows a pleasant grip.
Rigid interior
The foam and plastic divider inside the schoolbag ensures its rigidity, thus preventing it from folding and adopting a bad position on the child's back.
Reinforced seams
All our schoolbags and backpacks have reinforced seams at the weakest points and at all points of wear.
Resistant clasps
Our clasps, designed and manufactured especially for Caramel et cie, are made in one piece to be stronger, more resistant and easier to open.
Waterproof
The outer fabrics of our binders and bags are water repellent and the interior is waterproof.
Caramel & cie is dedicated to designing strong, ergonomic and comfortable school bags. All this with a touch of security!