5 to 8 years old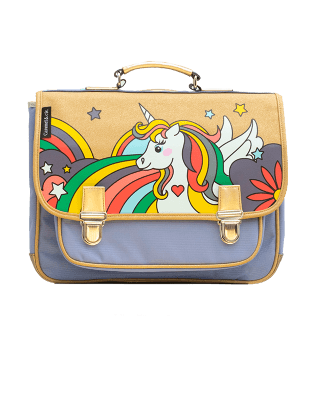 Find our kits matching the girls' schoolbag!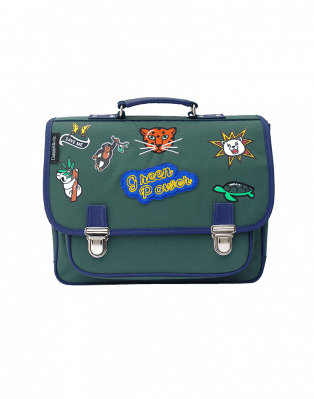 The first years of primary school are the beginning of great adventures. Available in several sizes, the Caramel & Cie schoolbags, solid and ergonomic, adapt perfectly to your children's needs so they grow up well.
Designer schoolbags for your daughter in CP, CE1 and CE2
Whether it's for a new start to school in elementary school or to replace an old schoolbag, it is important to choose the right school backpack for your daughter. This is particularly true for a child in primary school from CP. Are you looking for a quality satchel for your little girl? We offer different models of Caramel & cie schoolbags, and there is something for everyone!
Schoolbags designed to last
The school bag is among the most popular school supplies. Indeed, a school bag must contain and support all the other accessories and school supplies needed in primary school: notebooks, pencil cases, pens, pencils, etc. This means that you need to choose a school satchel for your daughter that can withstand heavy use. At Caramel & cie, we notably offer models of waterproof school bags made with water-repellent polyester-based materials.
Ergonomic and comfortable satchels
Ergonomics is also an essential criterion when choosing a school bag for a young child. Our designer has not neglected this point. Indeed, our school bags have, for example, adjustable shoulder straps which are distinguished by their S-shape. This style is inspired by hiking bags, except that our products are much more elegant. Regarding comfort, the thickness of the back of our school bags is reinforced by a foam that perfectly respects the anatomical design of your young child's spine.
Practical satchels
The practicality of a school satchel should not be neglected since it will accompany your child on a daily basis from the start of the school year. Thus, the Caramel & cie school bag models for girls or boys that we offer you have two interior compartments. Each compartment is spacious and a satchel has the capacity to accommodate a binder and several notebooks, ideal for primary school. Our school bags for children are also equipped with a large outside pocket that closes with Velcro. Your child, young girl, or young boy, will have no difficulty using a Caramel & cie school bag. In addition, these models of school satchels for girls will give your little one a touch of whimsy at school.
Ecological schoolbags
Yep, we haven't forgotten the environment. In addition, we must teach our children to respect it from an early age. Each satchel designed by Caramel & cie is a responsible product because it uses recycled polyester. A Caramel & cie school bag is easy to maintain, it washable with soap and water.
Design and aesthetic satchels
Appearance matters a lot to children, girls or boys, in elementary school. Certainly, a school bag with compartments, designed with the best materials, light, etc., is important, but aesthetics are also to be considered. So at Caramel & cie we offer models full of fantasy with butterflies, unicorns or dragonflies that will please your little girl.
Trust Caramel & cie for your daughter's satchel
The models of Caramel & cie school bags that we offer are perfect for your child's return to primary school. Like all Caramel & cie products (backpacks, pencil cases, snack bags, etc.), our school bags are subject to strict quality control and are guaranteed for 2 years.
The quality of the schoolbag is of great importance to our schoolchildren as they will keep it for a whole school year. If you need advice or want to place an order, please do not hesitate to contact us.