The new range of En Vadrouille sports bags has been enriched with new stylish designs. They are made for all the children from 6 years old, girl and boy, and for all their sports activities.
And not only! Their nice and versatile shape, make them practical and light travel bags to slip in spare things for a walk or even a weekend. To be completed with accessories of the same design!
The duffel bag can be worn on the shoulder or as a shoulder bag and the gym bag, offering a smaller container, is very practical on one or both shoulders thanks to its drawstring.
A sports bag adapted to your child's activity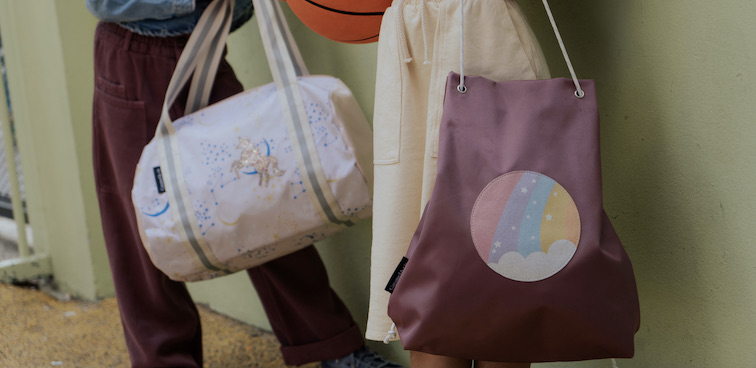 Depending on his sport activity, the things to carry are not the same! If he does judo or swimming pool, a small bag is enough, while if your child practices soccer or ice skating, he will need a bigger bag to carry his crampons or skates!
Gym bag or duffel bag, our sports bags from the En Vadrouille collection are adapted for the occasional sportsmen as well as for the budding sportsmen ;)
Multifunctional bags and stylish accessories

For all our sportsmen or globetrotters, we have designed sports bags that can also be used as travel bags, for a weekend, a trip to the park or a sleepover with friends.
The small inside pockets also allow you to slip in essentials like your wallet, keys and phone to make sure they don't get lost in the middle of your stuff and find them easily.
Our toiletry bags are also super practical to store toiletries, toothbrushes, toothpaste and find them in a wink with its full length zip. Plus, with its colorful handle, it can be easily hung in the bathroom.
And the best part is that you can match your accessories with your bag from the En Vadrouille collection!
Solid and eco-friendly bags for intensive practice 

We know that our children are not particularly tender with their schoolbag, so there is no reason why their sports bag should not receive the same treatment! We have therefore reinforced the seams at the places of wear to make it as resistant as possible while having a light bag. In fact, the duffel bag weighs only 350g!
And so that the stuff inside doesn't get wet, the outer fabric is water repellent and washable on the surface.
To continue our eco-responsible approach, 100% of our En Vadrouille's collection is made with 80% recycled polyester.
Bags to stimulate the imagination and tell pretty stories

Our collection declines the patterns of our line of schoolbags and backpacks.
If you want to ride a unicorn through the rainbow of colors, choose the Starry Rainbow or the Constellation, if you want to roar with your wolf pack, choose the Blue Wolf, and if you want to go from flower to flower or do aerial loops, choose the Butterfly or the Dragonfly for all your extracurricular activities.