Starting first grade is a milestone in the school career of young children.
They leave kindergarten to enter primary school. This is a new, more studious atmosphere, which requires the purchase of adapted material. The choice of a new schoolbag becomes an obligatory step, and certain criteria must be taken into consideration in order to choose it properly.
The size of the schoolbag according to the stature of the child
For a first grade school year, a 38 cm schoolbag is recommended. This is a medium size, adapted to the average stature of children of this age, usually around 6-7 years old, which allows them to carry it easily and slide it quickly and effortlessly on their back. Some school bags are particularly ergonomic and have adjustable straps and a padded, honeycombed back for your child's comfort.
The choice of a bag adapted to their material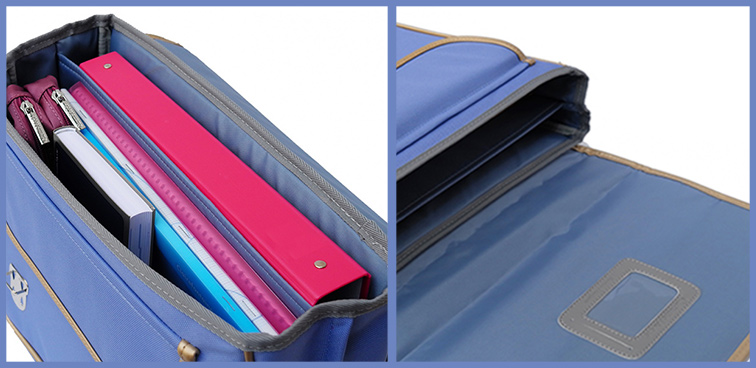 Starting elementary school means carrying a lot of material compared to the previous year. Their kindergarten bags are getting too small to carry a pencil case, notebooks, binder, and sometimes a book in addition to a snack. A 38 cm schoolbag is ideal at this stage. The internal compartments make it even easier to store the accessories they need for their schooling, and an external pocket allows them to slip in their snack.
The solidity of the binder for a daily accompaniment
Because children often take their schoolbag with them on their games and adventures, it is necessary to choose a resistant and solid bag so that it lasts all year. A waterproof and water-repellent coating will protect its contents from rain, and prevent mud and dust from seeping into the fabric too quickly. In addition, the quality of the seams is important here. The daily handling and use of a schoolbag subjects it to high stress and friction, which in the long run can reduce its life span. Therefore, reinforced seams are preferable. Finally, metal clasps and rivets on the handles and straps ensure the integrity of the bag even with regular and intense use. Choosing a school bag made of 100% waterproof polyester guarantees durability and ease of cleaning.
Tastes and colors
Because little boys have different tastes than little girls, it's essential to choose a schoolbag based on their preferences. From color to pattern, there is a wide variety available to find the one that will best suit your child. From pastel shades and unicorn and dragonfly patterns for the ladies, to more masculine colors and superhero emblems for the boys, the choice will be important for young students to feel good and express their personality through their schoolbag. Starting first grade is an important moment for them, and having a school bag they like and are proud of will be a major component of their integration and sense of belonging to their school environment.