Dear Santa Claus,
How have you been doing since last year? Are all the little elves all right ? I guess it's the frenzy at the North Pole!
At Caramel & Cie, we know that you have a lot of work to do at the year-end and we've decided to help you a little. That's why we have put all our heart into a new Mini collection, for children from 3 years old and available for Christmas.
We put in all the best pieces of magic that make the most beautiful dreams:
- Glitter to celebrate
- Butterfly wings for little fairies
- Fantastic and spectacular creatures for young enchanters
- Guardian animals and magicians from far away
- Pretty colors that warm the heart
- Clever drawings that become friends
We have also thought of all the shoulders and all the occasions, that's why you will find several sizes:
- Mini schoolbags for the way to school
- Mini and small backpacks for all the other trails of life.
Of course, we have put all our know-how into action to make this collection as robust as it is comfortable.
Because we are also thinking of the precious ice floe of your North Pole, we have decided to make all the interiors of our bags in 100% recycled polyester because, we know that fighting against waste is acting for a prettier planet.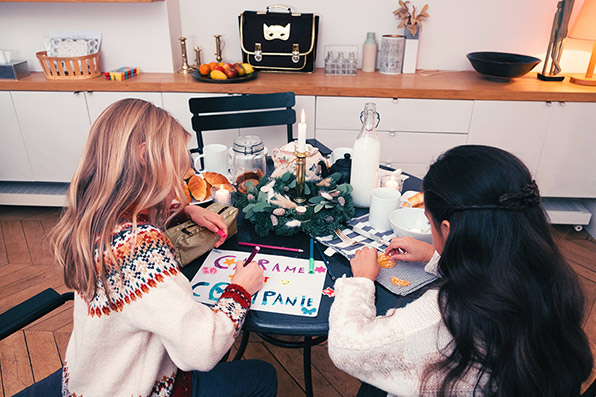 So, my dear Santa Claus, we invite you to discover our pretty collection as soon as possible because, for sure, with it you will make people happy!
We all hug you very warmly and, above all, before going out, don't forget to be well covered.
Signed: The Caramel & cie.'s team
PS: The day your hood breaks, keep us informed because we, at Caramel & cie, will be happy to make one just for you.