School bags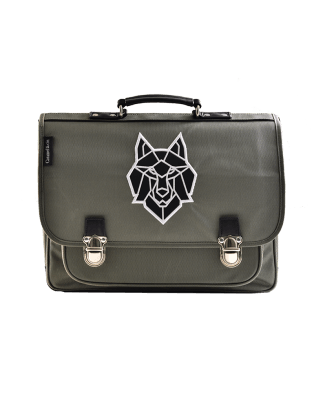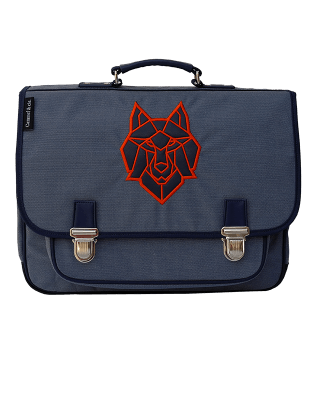 Classic lines and graphic designs !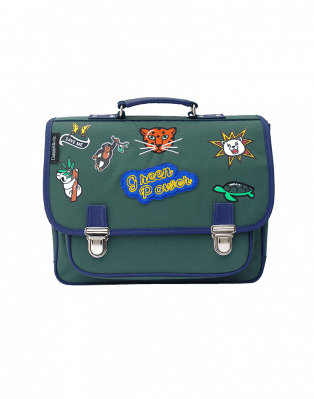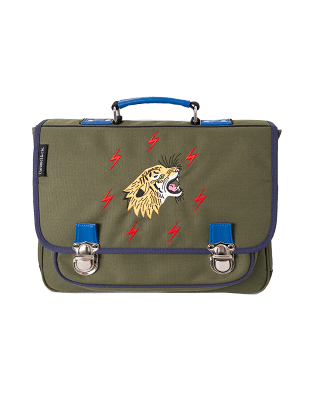 A lightweight schoolbag, classic lines and graphic designs: the perfect combination for a successful school year.
Back to school is fast approaching and so is the dreaded choice of schoolbag. Are you going to forget all your good intentions as parents and agree to buy a school bag in the colors of your boy's favorite superhero? Or will you remain faithful to the prescriptions made by the doctors who push you to make an ergonomic purchase to the detriment of the reasons? You will no longer have this worry because at Caramel & Compagnie, we promise you both together! Discover our special schoolbag collection for boys and its quality materials with an original design.
The right satchel adapted to age and class
If your child enters CP and CE1, the model will be totally different from Kindergarten or a class like CM2. Why ? Quite simply because the morphology is not the same and it is very important to look into the subject.
The correct size for a school bag from CP to CE1 is a standard 38 centimeter model. Your little boy is about to discover a new school, he finds himself in a different world which makes him grow up suddenly. And the schoolbag does mark this transition. The school bag gets bigger and it is no longer the blanket that you store inside, but books and notebooks for learning to read and write.
This is why our products differ according to age and we insist on the quality of the suspenders. Our mini collection is aimed at the end of kindergarten. So that your little adventurer can store his snack, his pacifier or his diaper. But entering primary school leaves room for a whole different type of accessory.
For the wheeled schoolbag, you can of course give in in classes from CP to CE1 but it is still difficult to use and can be bulky. Especially if there are floors to climb. Your little face will not yet be used to having a heavy enough load, you have to get used to it step by step. The more he grows, the more autonomous he becomes and knows how to transport a so-called "trolley" bag.
For older children from CM1 to CM2, school bags grow at the same time as your children. You can opt for a size of 41 centimeters. You can rely on the size of the notebooks to project you into the size the container will have to support. The list of school supplies usually arrives well before the start of the school year, so you will have some time to make the right choice.
School bags on wheels or "trolley"
This is a trend that continues over time. Many scholars have realized that school bags are far too heavy for their fragile and growing little backs. The market had to innovate and offer models with wheels. But they are not necessarily suitable for all cherubim and all situations.
This type of range is not really suitable for small builds. They quickly become bulky and are especially inconvenient on the stairs. Some mothers blame them for a lack of hygiene because they are dragged on the floor all day long. If you then have to wear it on your back, it can stain the clothes. But it's a question of organization and also of taste.
In addition, some are equipped with roller covers or sling reels to avoid these worries and allow the child to have more freedom. Our models are designed to be the most suitable for children and to avoid any difficulty for them. You can ask us for advice if you need advice.
A model adapted to the taste of your champion
This is where the great debate begins. The satchel should be practical and comfortable, but it should also appeal to your son. We offer models at affordable prices that encompass different universes for more choice and pooling between you and your blonde head.
The older your child grows, the more they will want to assert themselves, and this depends on their selection of satchel. At Caramel & Compagnie, we have several proposals and very distinct styles.
For animal lovers, our array of wolves, bears, lions and other savannah critters will have more than one going. If it's the superheroes that make your little hearts dream, they are spoiled for choice. We also thought about the older ones, who have a penchant for street-style. And finally, we pamper dreamers with a "star" collection. Happiness is available just a click away and delivery is done anywhere in France.
How about a school backpack?
As your teenager grows up, they no longer want a satchel, let alone a model with wheels. He wants a backpack! Don't panic, we have this in stock. It can even be used to go to extra-curricular activities such as swimming, soccer or even going to play in the park.
You can easily distribute the weight in a backpack, but storage is a bit more complicated. Our products have six essential criteria for the well-being of your child: comfort, ergonomics, lightness, strength and aesthetics.
The advantages of the schoolbag
Robustness is an important element for such an object. But impermeability too. When it rains, it is essential that all of your little treasure's school items stay dry. That's why we made ours with waterproof material to prevent disasters like this.
In addition, some are designed with several compartments. This allows your child to store their things properly so that they don't take a long time to find their kit and ruin their books. It's still better if all his gear holds up all year round!
Now it's your turn, check out our boy's school bags and do it