Backpack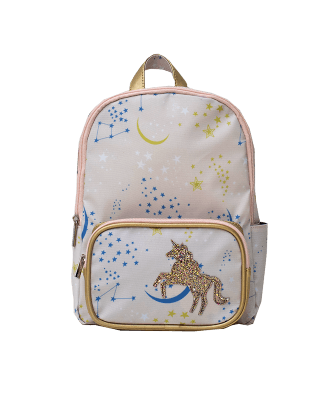 Whether they are small or large, they are fun!
Whether small or large, Caramel & Cie backpacks allow your children to take everything they need with them to school or elsewhere.
The best tips for choosing the right backpack for your daughter
Here are the important points to consider in making the perfect purchase.
Comfortable suspenders
If there is one thing you shouldn't overlook, it's the suspenders. They must be padded and perfectly hug your princess's shoulders. Choose a model where they can be adjusted according to the morphology but also the clothes your child wears.
In fact, in winter, your little girl will tend to wear thicker outfits than in spring. It is therefore important that she can tighten and tighten them as she sees fit so as not to be embarrassed and to retain all the amplitude she needs.
A padded and adapted back
Second criterion not to be omitted: the back! Having padding on the back allows you not to feel the objects that are being transported. If your little angel walks around with curvy or hunchbacked props, she may be feeling them.
Also, if it's a special bag for extra-curricular activities like the swimming pool, or gymnastics and she has to carry it on a trip a little longer than usual, you can opt for a model that avoids perspiration.
Filling capacity
It is essential, for your little face, not to opt for a girl's backpack that is too big. The shoulder straps are often too high and cannot be positioned correctly on the upper body. In addition, the bottom of the bag may interfere with it.
You can choose, for a primary school girl, a bag of 3 to 20 liters maximum. At Caramel & Cie we have put together our collection in three different sizes. There is a mini model for little girls in kindergarten, a small one for the taller ones (up to CE2) and standard-size backpacks for the older ones.
Internal organization
Our girls' backpacks have pockets both on the outside and inside. Our products have been designed to optimize organization and avoid wasting your child's time. For kindergartens, there is no need for a lot of compartments, but for older ones, it becomes necessary.
For every occasion his backpack
To go to school
Generally, our little fairies receive their first bag when they go back to school for the first time. A great moment for both children and parents. For kindergartens, there is no need for a very large size. You just need to be able to slip in your blanket and your spare clothes. Discover our magical collection!
On the other hand, the older ones are no longer babies and will be fans of this kind of play. It goes hand in hand with an already well-defined style and allows you to assert yourself before entering college. Notebooks and other supplies are a little less tidy than in a satchel, but your teenage years want your big girls to turn to this model.
For the swimming pool, the park and extra-curricular activities
To get to the pool with her class, your little one will need a dedicated bag. She will not be able to store her wet things in her satchel, otherwise all her school equipment will be soaked. The top remains a waterproof material that prevents water from dripping everywhere.
For activities outside of school, the backpack must be large enough to accommodate the various accessories and clothing for dance, judo or even horse riding. We recommend models such as the zebra backpack or the Minireyve and its swans. You can make her happy and let her choose something original that she will feel comfortable with.
For weekends and trips
If you decide to go a little longer with your little girl, you can count on our ultra robust and comfortable models. They are sized to fit around the train and even on a plane. She can store all her memories there so that she can share them with her friends when she returns from vacation.
You can also match the bag with a single or double pencil case for an even more precise style! In fact, some of our styles are unisex and may suit your boy as well. Not jealous !
The consequences of a poorly adapted format
Our entire team is at your disposal to provide you with professional advice and advice. We can't tell you enough, but choosing a backpack just because it's black, red or pink is not a great idea. In our store, we take care to make pieces that are both aesthetic and comfortable to wear.
Something too big, too heavy, or even improperly adjusted, can cause your princess to have poor body posture and have repercussions as she grows. The joints and muscles can easily be overloaded and cause pain in the shoulders and neck. Do not wait and choose the best product that combines quality and price.
Wondering if now is the right time to change? At each new school year, check the size of your daughter's backpack. If she's grown a lot, which he may and is normal, he may not be right for her. The straps can also be too tight. It is high time to order! Our starred range has already won over more than one. We ensure delivery everywhere in France.